In a rare interview, the often-controversial and provocative writer and artist Johnny Scuotto talks to us about his new EP with his musical project, Death Dance Music. As an exclusive episode of our podcast, POSTBURNOUT.COM Interviews…, we also talk to Johnny about his writings in Uncensored New York, subverting the mainstream politics of the place he's in, how sobriety has changed his outlook on life and what it means for him going forward, and more.
You can buy Death Dance Music's EP here, and keep up to date with Johnny on Uncensored New York.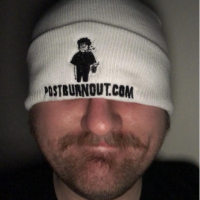 Aaron Kavanagh is the Founder and Editor-in-Chief of Post-Burnout. His writing can also be found in the Irish Daily Star, Buzz.ie, New Noise Magazine, XS Noize, DSCVRD and more.