Forming online during the COVID-19 pandemic, the Dublin-Laois indie band Dog Day Afternoon was founded by like-minded musicians who met each other at the Electric Picnic festival. Taking inspiration from classic indie and college rock acts, like The Smiths and R.E.M., to modern-day music, the band carved out a nice, rounded sound of what they called "indie post pop or something."

Featuring Mark Moloney on guitar and vocals, David McGeary on lead guitar, Aaron Marry on bass, and Shea Walsh on drums, the band quickly rose to prominence on Irish radio. The future looked bright for the enthusiastic youngsters, who were riding high off of their two well-received singles "Foolish" and "Lust," and it seemed that with the reopening of the country, they were only just beginning their upward trajectory, with plans to conquer all facets of the Irish music scene.

After a gig in December 2022, the band went radio silent, and there were no announcements regarding new music or gigs. Then, on September 7th, 2023, the band announced on their Instagram page that they would be playing one final gig at Dublin's LoSt LaNe that month.

Post-Burnout emailed the band some questions ahead of their final show tomorrow night, to discuss where they have been and why the band are calling it quits. Here are their answers.

_____________________________________________
How would you describe your band to the uninitiated?
We originally met just before lockdown, and, funnily enough, had originally two different members on bass and lead guitar. Having all met in college in some way or another, Shae and Mark are the original members from that era, and Aaron originally came in for lead guitar at the time – wild – which David slotted in to do, so now everybody actually plays their main instrument. It's a bit of a wild journey, how we got from that to the way it is now, but we wouldn't change it for the world.
I became familiar with the band during the summer of last year, about a month or so before Post-Burnout began, when we met for an interview in St Stephen's Green Park to discuss your latest single "Lust" for XS Noize. Rereading that interview, it seemed like the band had a lot of interesting new material on the horizon, and when I saw your band at The Grand Social in September 2022, there was a huge buzz about which of your tracks should be the next single and where you were going from there, but in the year and more since then, there was a video released for "Lust" but no further material released nor live gigs. What happened?
Life, I suppose. Every unsigned band in the country will tell you that it is incredibly difficult to maintain doing what you're doing musically, as well as trying to make a living. Trying to make ends meet, either just graduated from college or even still being there, there's only so much precedence you can give to being an artist. It's such a shame too, as we really love playing together and have built up so much chemistry over the past number of years, but while the songs we have, and the overall sound of DDA, has that youthful feel-good indie rock energy you get from your late-teens/early-20s, we're in our mid-20s now and for us, certain things can get old very quickly (the sound; not us hahahahah).
Why have the band decided to call it a (dog) day?
11/10 pun.
Like before, we're in our mid-20s now. I think we all wanted different things from the band, and our music tastes have changed drastically, too. We're all still writing and performing, just for different projects outside DDA, and we always have been. There's absolutely no bad blood at all, which we're all glad about because we know how easy it is to get sucked into something like that. We're all still best mates but sometimes something has run its course and has a natural conclusion. DDA just had its own a bit sooner than people expected.
What were some of the highlights of the band for you, and do you feel fulfilled by its ending?
One of our first gigs was played with a band called Blue Slate in The Sound House. We had only gotten out of lockdown, so people were genuinely feral at the sight of a pint that hadn't come from a can or a bottle. Needless to say, the place had sold out, which was completely unexpected. Tops off, lads on shoulders, sweaty and scauldy but in the best way possible Also, last summer, we shot our one and only iconic music video for our then new single "Lust" (still available to stream by the way!!). David shot and edited the whole thing, but we just tried to shoot anywhere and everywhere we could, driving around Howth Head like a bunch of headless chickens, crazy at the time, but hilarious to look back on now. Can only imagine what some of the locals thought of a group of youngfellas shooting a video on the wall of a graveyard overlooking their harbour.


What can people expect when they come along to the show tomorrow?
The show is set to be probably our biggest one since we began gigging. The plan is to go out with a bang and we're sticking to that. It's gonna be an emotional rollercoaster but, emotions aside, even if you don't know us or haven't heard of us, a gig is a gig. Pay in and we'll entertain, guaranteed.
Supports are coming from singer-songwriter Aoife Bridget and alt-pop band find-joy, two incredible acts and great friends of ours. Aoife has this really unique songwriting style mixed with dreamy synthpop sound, and find-joy are simply the best at what they do. Tadhg and Colleen's vocals are some of the best in the business, and we're so lucky to have the guys supporting us 🫶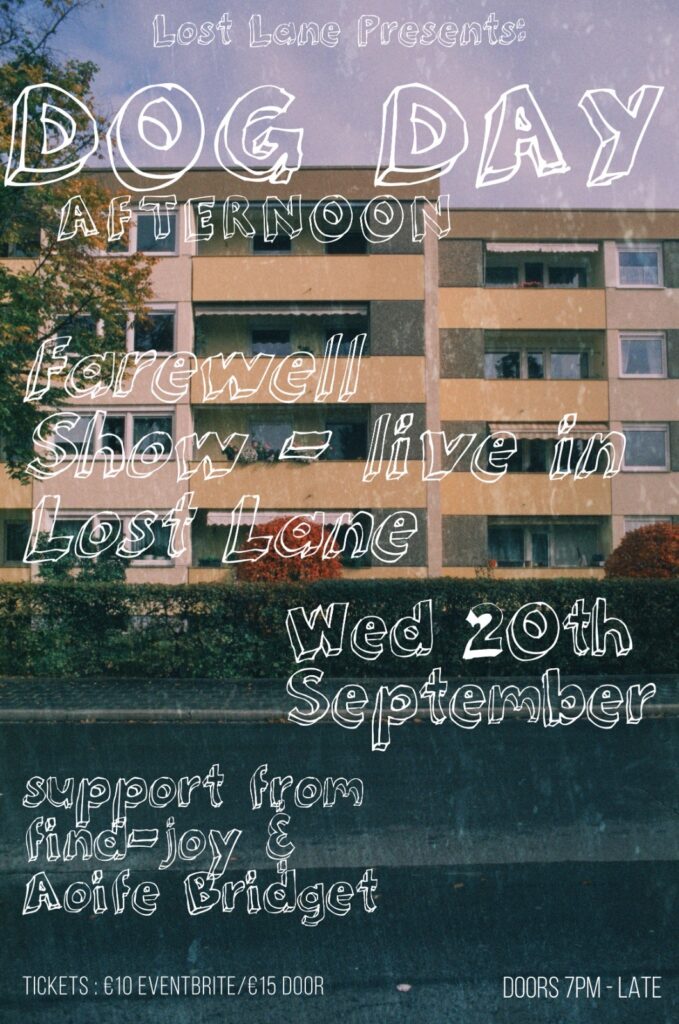 What are the members' future plans?
David (who goes by the stage name David OFMG) writes and produces his own dreampop and shoegaze material and is dropping his second EP very soon.
Shae is now gigging and recording with Baby Lemonade, aka Saoirse Moncrief, and she has dropped her first single, which is at 250k streams on Spotify already.
Mark plays with and is one of the founding members of the Punk/Hip-Hop/Rap outfit Sauce Gang Collective, and they are set to release their second album before the end of the year.
Mark and Aaron are currently working on a very top-secret project that we can't reveal too much about yet, but can reveal the existence of and that there are songs on the way.
Is there any final thing you'd like to add?
Without being sappy, just the absolute biggest thank you to everyone and anyone who has ever bought a ticket to a gig, streamed a song, shared a post, etc.
To some of the bigger bands that mightn't mean too much, but to us smaller bands (and I think I speak for every small band), those little things go such a long way, and for youse to support us while we do what we love is…well to be honest, words can't describe it.
There's also a select few that have been with us from the very start and supported us unconditionally from day one, and we can never be thankful enough. If they're reading this, they know who they are.
To everyone else, this isn't a bye forever; it's a see ya later
Mark, Aaron, Shae, and Dave x
Dog Day Afternoon play their final show tomorrow night at LoSt LaNe, Dublin. You can purchase tickets here. You can also follow the band on Instagram, Twitter, and Facebook.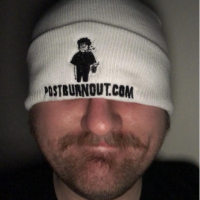 Aaron Kavanagh is the Founder and Editor-in-Chief of Post-Burnout. His writing can also be found in the Irish Daily Star, Buzz.ie, New Noise Magazine, XS Noize, DSCVRD and more.