Possessing an interest in the macabre and surreal, artist Gregory Jacobsen began expressing himself by illustrating and painting his ideas. "I always wanted to be a performer, but doing art was a lot easier because I could just be alone in my room and do all that, and just throughout the years, it developed," Gregory tells Post-Burnout. After finishing art school, Gregory found success with his distinctive, comic, bizarre, disturbing and psychosexual art, but his desire to perform never dissipated.

In 2001, Gregory formed Lovely Little Girls, a live-performance collective, which took musical inspiration from no-wave and early punk music. "At first it started with whatever I could do at the time, which, for me, is pretty rudimentary, musically, so it was more about a chaotic performance piece, kind of like Joanna Went – she was a performance artist from L.A. – and it was very chaotic, and props and stuff like that," he says, on its initial formation. "So, maybe for the first year, it was just sort of whoever I could collect, and, for like two weeks, just figure something out, based on everybody's limitations, based on my limitations, based on the space's limitations, and then, eventually, it became a band, because things are a little difficult…these sort of things are difficult to do in rock clubs, where you're not really given a lot of support to, you know, set up the stage or do your costumes or whatever, so a band was a lot easier."

When fully transitioning the project into a band, Gregory found things got much easier after scooping up seasoned musician Alex Perkolup, who had been involved with acts like Cheer-Accident and The Flying Luttenbachers. "He understood where I was coming from and was able to translate my non-musical ideas into something strange and odd," says Gregory. "And he comes from death metal and prog. So, it's a good collision of me being the non-musician and him being the über-musician." The band began releasing albums in 2005, starting with their self-released self-titled album. In 2012, the band released their first album with the iconic noise label SKiN GRAFT, Cleaning The Filth From A Delicate Frame. "We're kind of an odd duck outfit for the SKiN GRAFT roster, I think," says Gregory. "Some people really get it. Other people are like, 'What the fuck is this shit? This is not Melt-Banana! This is not Arab on Radar! [Laughs]"

When asked how working as part of a collaborative project compares to his individualised illustrative work, Gregory responds, "It's hard to partition my brain. Like, one's social, one's very solitary. If I get too involved in the music end of it, my mind's in a social area, and I'm like, 'Why do I want to go back and sit in a studio for hours, for months and months?' Plus, it's also…they definitely do work off each other, but I always have to really make a point of coming back to the art, in order just to sort of clear it out." He adds, "When we're coming up with new material or just rearranging something, it's really amazing to just see someone's gears turn, and these ideas bounce everywhere. And, for me, that's the best part of being in a band. That's the best part of collaborative creativity."

 

Today, the band release their third album with SKiN GRAFT, Effusive Supreme, which is their most collaboratively-constructed record to date. "In the past albums, Alex and I would demo the majority of the material, bring it in, and then it'd get filtered through the band," says Gregory. "With this one, we really developed these songs together. And the point of recording the album – we had been playing together for a good number of years, and we had a good musical vocabulary and interaction, where it kind of came together naturally, and I think that's really evident in the new album. It feels a lot more organic, it feels a lot more fun – not that the other albums weren't fun – but it has more of, I guess, a groove that I think only comes from people that have been playing together for a while, and I think it's this very weird, idiosyncratic groove, which is what I always look for in music."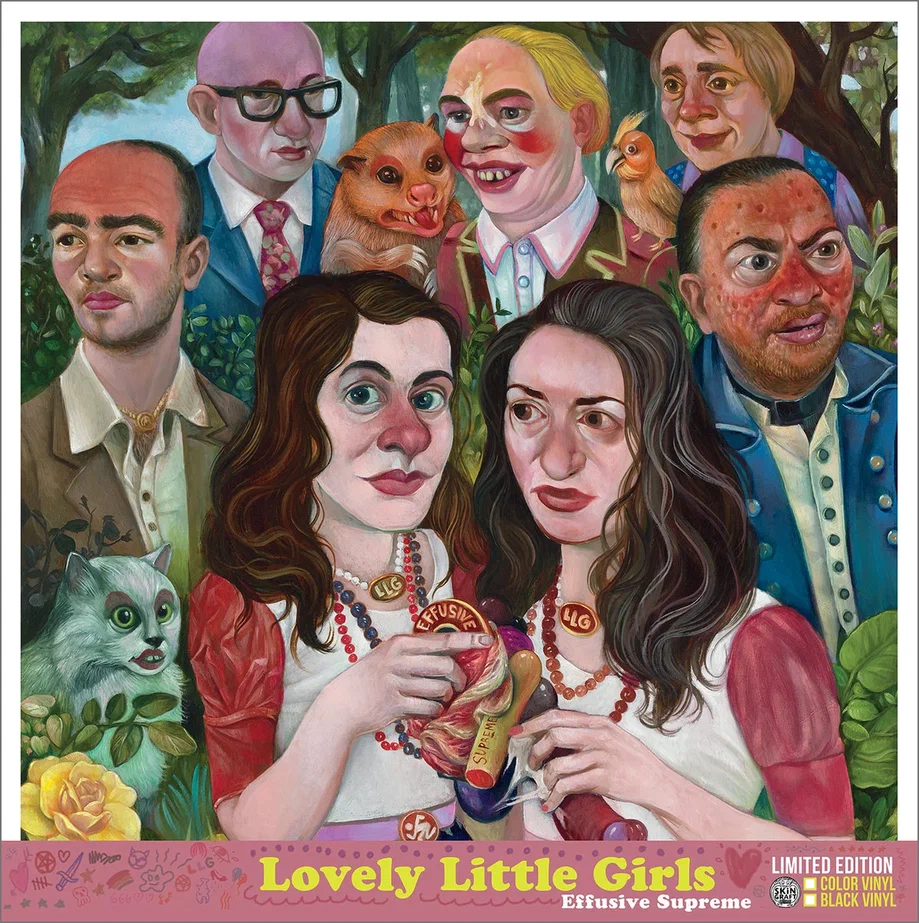 However, Effusive Supreme was made during a tumultuous time, and the band almost fell apart before its completion. Gregory explains, "We actually recorded it about five years ago, and then lockdown happened, and then I was kind of ready to abandon the entire project, and said, 'Fuck it, let's put out the record and let's put the band back together and do all that.' And I was ready not to do music or performance anymore, and just focus on painting, but, in the end, I need this in my life; I need the collaborative interaction of working with other people. I need to be on stage, and if I'm not, I just get a kind of pent-up energy that goes into negative places."
You can see this energy on display for yourself when Lovely Little Girls hit the road this October. "You can just expect some fun theatricality," says Gregory, on the tour. "My goal is to always entertain, for better or for worse. Sometimes it results in me maybe trying too hard, or, at other times, it results in just hitting that sweet spot of performing."
Lovely Little Girls' latest album, Effusive Supreme, is out today, and available to purchase and stream here. You can keep up to date with the band on their website. See the band on their U.S. tour this October, when they perform at:
13th – Chicago @ The Burlington* with Imelda Marcos, Life of Yum Yum
14th – St. Louis @ Platypus* with Zantigo!
15th – Cincinnati @ Northside* Tavern with FroOot Loops
16th – Asheville, TBD*
17th – Atlanta, TBD* with Flesh Narc & Cabo Boing
18th – Mobile, TBD*
19th – New Orleans @ AllWays Lounge* with Primpce
20th – San Marcos @ The Porch* with Attic Ted
21st – Denton @ Rubber Gloves* (No Coast Fest)
*-dates with Pili Coït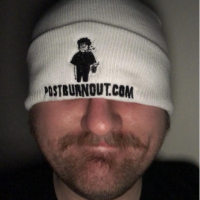 Aaron Kavanagh is the Founder and Editor-in-Chief of Post-Burnout. His writing can also be found in the Irish Daily Star, Buzz.ie, New Noise Magazine, XS Noize, DSCVRD and more.