Moxi & Loon are a guitar-and-drum duo who have been unleashing their garage-and-punk-infused psych rock (which they dub "Shamanic rock") onto unsuspecting citizens on the streets of San Diego for a few years now.
Today, Moxi & Loon release their debut album, PEDAL. Despite an eight-hour time difference between San Diego and Dublin, the band's members, Nick Fulsher and Jake Jarz, managed to talk to Post-Burnout's Aaron Kavanagh at 3:30 AM about discovering each other at an open mic night, being two kindred spirits from the Midwest, public band practices, recording their album and analogue.
__________________________________________________________________________________
I guess, just starting off, how did you guys kind of meet and start doing stuff together?
Jake: We met here in San Diego, where we're calling you from. It's funny, actually, we both kind of came out here around the same time, separately, with the same goal in mind, just to start playing music. We met at an open mic one night and just, yeah, hit it off right away. We got up on stage, we jammed it out, things were flowing. [We] realised we were both from the Midwest, we both had travelled here in our vans, had a lot in common from the get-go.
Whereabouts are you guys from, originally?
Nick: I'm from Milwaukee.
Jake: The Chicago area.
Oh, nice. And, like, when you guys started, you were like… – sorry, am I cracking up for you guys?
Jake: Sorry, what was that?
No, sorry, I thought I was breaking up. Yeah, no. So, when you guys started, you kind of just went out on the streets and just played in front of people, right?
Nick: Yeah, dude, we were like…When we first really started together at this thing called Skooliepalooza in, like, Ehrenberg or Quartzite, Illinois. Or Arizona, not Illinois! [Laughs] We started in Arizona and, yeah, started doing that out of his van, with just like solar power powering the amps and me setting up my kit and fuckin'…all over San Diego. And even just going to, like, open mics and setting up my kit, real quick, on stage and stuff.
Jake: Yeah.
So, I mean, you guys kind of started doing that, like, that's how…I don't know, I mean that's how you, like, practised too? It wasn't like you guys would practice and then do it live; it was just like straight…eh, straight out, So, I mean, were you guys nervous doing that?
Jake: Eh…
Nick: No, I never was, man; it just, like, flowed. It was just like very easy to play with each other and just like, fuckin', we just ripped and it was just like…you know, it just kind of morphed into stuff,
Jake: Yeah.
Nick: And then he had a lot of written music already, so we just kind of like…you know, would interchange. He would just interchange between the songs and stuff. It was rad.
Jake: One of the first times we set up to do a band practice was actually out in a park because, yeah, I was living in my van, Nick was in an apartment, we didn't have a practice space, and we set up in a park and, like, there was…
Nick: These kids playing soccer!
Jake: These kids playing soccer. [All laugh]
Nick: More like these adults playing soccer and these kids were hanging out.
Jake: Yeah, and then, like, they all came up and just like lined up and started watching us jam and just…even when we try to do a practice session or whatever, we still wound up…
Nick: Yeah! [Laughs]
Jake: …performing kind of like a show. It was a funny scene.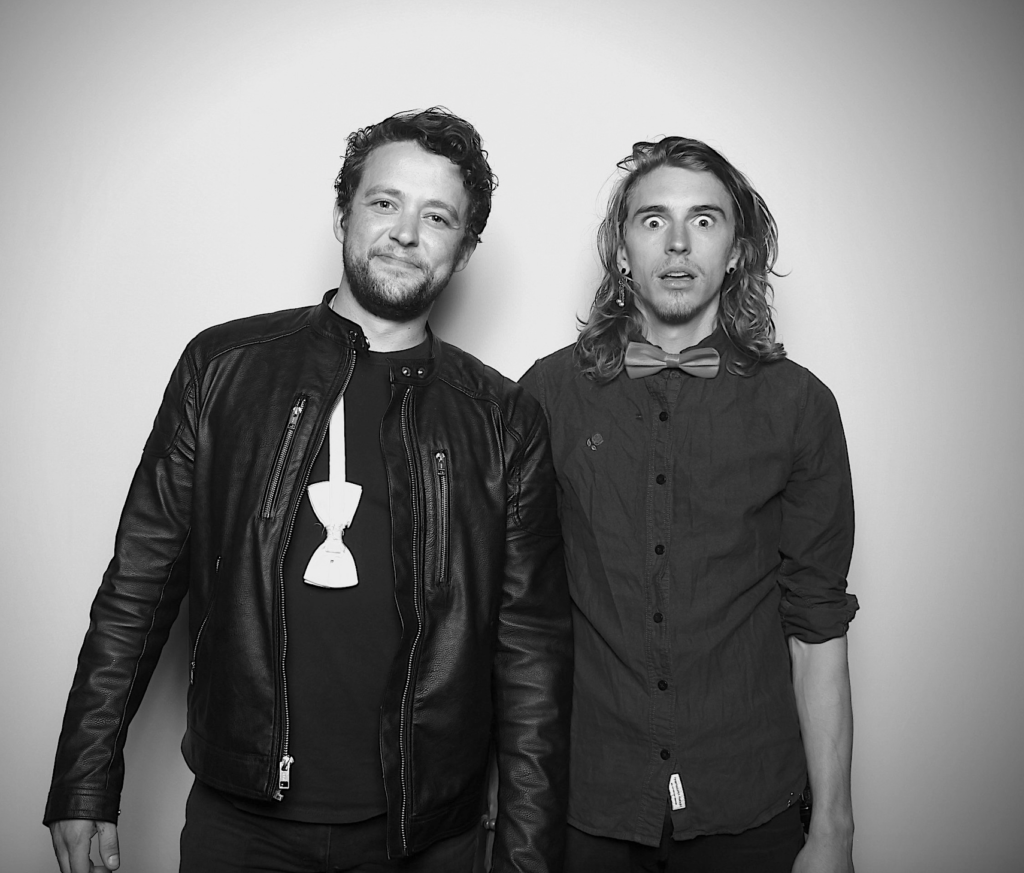 When it came to recording music, obviously, this is your first album, PEDAL, and…I mean, you guys really seem like a band that has to be kind of like an album band, you know what I mean? I don't think you really get the same effect if it's just like singles or even an EP, right? Like, you need the kind of…I get the sense that you guys are trying to create a sense of atmosphere and create a sense of eh, eh…you know, exploration a, I don't know, a journey in some way with your music. Would that be fair to say?
Nick: Yeah. That's like a very…just, yeah, way we're trying to fucking roll. I like, you know, albums and stuff.
So, when it came to making PEDAL, how long have you guys been working on this one?
Jake: Eh…a year-and-a-half, we worked on it?
Nick: Yeah, I think it's, like, pretty much a year-and-a-half since we first went in.
Jake: Yeah, it was very spread out. We recorded at Big Fish Studios in Rancho Santa Fe, out here in California, and, like, that was like our first…well, it was my first experience with going to a legit studio. Did you do stuff like that with Slow Walker?
Nick: I mean, we would go into, like, bigger studios but, like, not to tape analogue stuff. So, yeah, that was a first for me.
Jake: We were recording to tape. The whole thing was like super novel for the both of us, and we had to space each session out by like a couple of months sometimes, just for [Laughs] financial reasons.
Nick: Yeah.
Sure.
Jake: But, yeah, I mean we packed it all into just like, I think, ten…?
Nick: I think it was twelve days and we recorded eight songs, and then, you know…
Jake: Yeah.
Nick: …a few months or a couple of months of, like, mixing and "Ah, let's go back in and fix that fucking thing." [The call lags and Aaron and Nick talk over each other] Sorry, go ahead.
No, no. Finish what you were saying.
Nick: Yeah, it was like twelve full days of just getting everything down on fucking tape.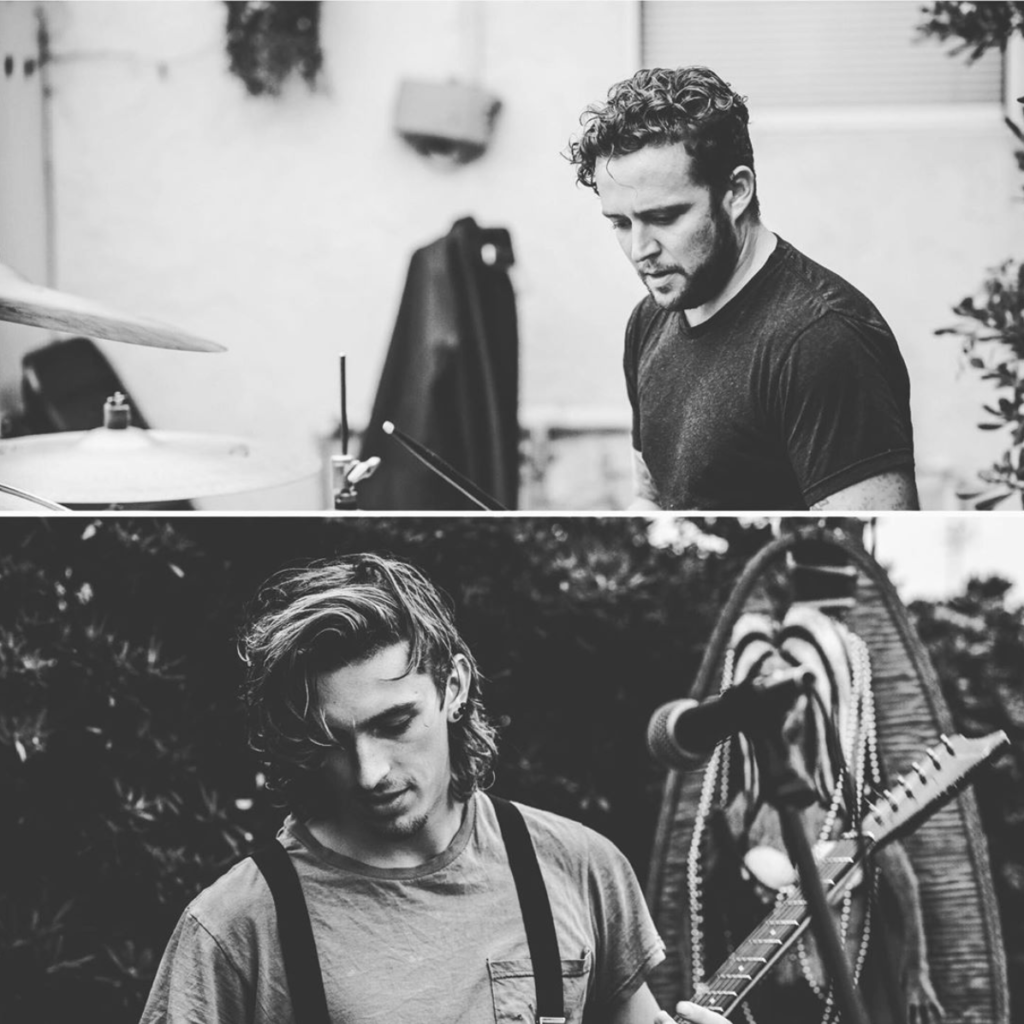 Well, that was the other thing, the press kit mentioned that it was on tape, recorded on tape. Why was it important for you guys to record on analogue versus digital?
Jake: Uh…
Nick: I don't think it was even intentional, really, like that we did it this way. It was just like, [the album's producer and engineer] Jordan Andreen is like…if you want to do something cool with music in this city, you fucking go record with this dude or at that studio kind of deal. And I liked it, Jake liked it, and it just kind of, you know, went that way.
Jake: Yeah. A small piece for me was, eh…The White Stripes, growing up, were a huge influence for me, and they did a lot of their early stuff to tape and they got this raw, natural sound and I – I don't have any sound engineering background or anything – but I was like, "I want to get that!" [Laughs]
Yeah.
Jake: I was drawn to it.
When it comes to recording – because you mentioned White Stripes, and, simultaneously, you two are a two-piece of drum and guitar – when it came to recording, was there eh, eh…sorry, what I'm trying to ask is, like, how much stuff were you willing to put on the record that you couldn't replicate live or was it like, "If we can't do it live, we're not putting it on"?
Nick: Em…I feel like on this record, we definitely, like, threw some stuff in there. You know, synthesizers and just kinda got weird with it, you know? Threw bass on the record and, yeah, just made it…you know. But, like, that's…you hear us live and you're like, "Damn! They actually, like…it sounds…" We can fill that void kind of deal.
Jake: Yeah. Going in originally, I would say…I originally thought we would just keep it barebones, but then, like, our producer and engineer Jordan has this vision and this big influence and I feel he kind of just opened up that door, just to play around more and add layers. Well, you did too.
Nick: Yeah, I was very…I was like, you know, this record is going to sound sick if we just…let's put some fucking Moog on it and…[All laugh] Just do weird shit and weird vocals! And even filling out vocals in the songs…
Jake: Yeah.
Nick: …that, previously, we didn't have a lot of vocals, you know, in parts and we were like, "Dude, fucking, that needs to be there! Yeah, sing that there! Oh, fuck yeah! That was super dope." Like, literally, in the control room, recording, just like, "Yeah!!!" when one of us would hit a vocal line we just made up in the studio, right there.
Jake: Yeah.
What do you think, like, adding an external producer – you were mentioning Jordan – what do you think that adds in terms of…I don't know, some people can be kind of precious about, you know, exposing their music to others, while other people are more open to hearing…just trying to make the best thing they can and hearing as many opinions as they can. I was wondering, you know, where do you guys fall on that?
Jake: I think we got lucky in that case, because Jordan is just, like…he kneels into what we wanted to cultivate naturally. You know, he didn't try to steer us out of the path we intended. Moreso, his guidance was really just like, "OK, nail this on, like, a professional level this time." Like, he pushed us just to nail the takes to a degree that I never would have done.
Nick: You went through a ringer in recording. I was like, "Oh, man!" It was so sick, but he was just super hard on the vocals.
Jake: [Laughs] A lot of time in the vocal booth, just recording over and over and over again.
Nick: It was fucking wild! [All laugh]
Let's talk a little about your actual music. So, I believe you guys dub it "Shamayic rock," which is really cool. "Shamanic rock," I apologise, I mispronounced it. And, em, when I was kind of listening to the album, I was thinking of Queens of the Stone Age and King Gizzard [& the Lizard Wizard] and then, when I read the digital press kit, those were the inspirations. So, yeah, I mean, maybe if you could expand on that a little bit? Just, if someone's reading this who hasn't heard you guys, what would kind of be the entry point, I guess?
Nick: Take that; I gotta think about that one.
Jake: Yeah, I wrote that phrase, "Shamanic rock" in there, with inspiration in mind of Yonatan Gat and the [Eastern] Medicine Singers. [They] had a really profound effect on me a few years ago, when I saw them at Desert Daze, and kind of just the whole Desert Daze scene around that group, particularly. I don't know, something about the psych-rock scene around Desert Daze has a focus on these altered states. I mean, it's more than just going to see a show and tripping out and it's not the same as tripping out at an EDM fest; it's going there and almost having these visionary experiences during these just like face-melting, mind-bending performances. And, I mean, this is nothing new, this goes back to, you know, like '60s psychedelic music. I mean, this is like a long thread, but….I don't know where I was going with that thread, actually, [Laughs] but I hope that partially answered the question.
Nick: I feel like it totally does. Yeah, you did it. I'm like the big desert rocker, you know? Fucking Queens of the Stone Age, Mark Lanegan, Kyuss, you know, Brant Bjork, all those dudes. Yeah, that's like…It's whole desert vibes from both of us, you know? That kind of gritty…you know, eating some mushrooms in the desert kind of shit.
Yeah. [Laughs] I guess, kinda wrapping up, what do you guys have planned ahead and, you know, is there anything you want to add?
Nick: We've got two release shows coming up next week in San Diego, and then we hit the road all the way up the Westcoast and back for the next two weeks, after that. Like, fourteen shows in seventeen days, I think?
Jake: Yeah.
Sweet. Alright, thanks very much.
Moxi & Loon's debut album PEDAL is available to stream wherever you listen to your music from today. You can check the band out on their website, Instagram, YouTube and Facebook.
They will also be appearing at:
Jan 25th – San Diego, CA – Soda Bar
Jan 26th – Oceanside, CA – Pour House
Jan 27th – Los Angeles, CA – Harvelle's
Jan 28th – Tahoe City, CA – Moe's BBQ
Jan 29th – Reno, NV – Pignic
Jan 31st – South Lake Tahoe, CA – Rojo's Tavern
Feb 2nd – Redmond, OR – High Desert Music Hall
Feb 3rd – Bend, OR – Silver Moon Brewing
Feb 4th – Seattle, WA – Darrell's Tavern
Feb 5th – Portland, OR – Dante's
Feb 8th – Astoria, OR – The Haunt
Feb 9th – Vancouver, WA – Six Shooter
Feb 10th – Portland, OR – Star Theater
Feb 11th – Arcata, CA – The Jam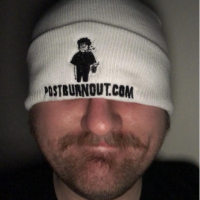 Aaron Kavanagh is the Founder and Editor-in-Chief of Post-Burnout. His writing can also be found in the Irish Daily Star, Buzz.ie, New Noise Magazine, XS Noize, DSCVRD and more.