During the COVID-19 lockdowns, the Tullamore musician Rob Moore began a new solo project out of boredom. "Well, the first release just came out of being at home, with COVID, and having nothing else to do," Rob tells Post-Burnout. "And I guess, at the time, I was studying for a degree, like, finishing off college and all that, and I was very much locked in the house all the time, and not getting out to play with them [his other band members]. Not getting out to play with your friends or whatever! As a 40-year-old man! [Laughs] But I wasn't getting out to go practice with them or anything like that, so I just had a couple of song ideas knocking around that I just said "Sure…," and just ended up kind of recording them on the laptop. I got three songs together and threw them up on Spotify. I never had done anything in terms of releasing music properly or trying to get it out in any sort of fashion where you're actually looking for people to actively listen to it. So, all that was new."
Inspired by acts like Fugazi, Rancid, Converge, Jeff Rosenstock, and Deerhoof, Rob christened his new project "Fierce Shook" and made his debut release with the three-song Fierce Shook Altogether EPin March 2021. After its release, he expanded the band into a three-piece, with two of his childhood friends and longtime collaborators. "Myself and the two other lads – Owen and Ozzy [Holmes], they're two brothers – we've actually been playing together for years," says Rob. "It's just always been a hobby of ours. Like, we've been probably doing that for, I'd say, ten or fifteen years, like, just messing about or whatever." With the other members' additional interests in classic rock and hip-hop, Fierce Shook combined it all into a nice, neat, little post-punk/post-hardcore package.
When asked how such left-field music fairs in their native county, Rob responds, "So, you'll have a venue like John Lee's Pub down there, which is very open to basically hosting any type of music. They'll have, say, stuff like us or even, say, even, they've had [Gilla] Band playing down there. And, the next night, you might have Paddy Casey or, I don't know, the Hothouse Flowers or whoever playing. But they're very good for fostering new music, and very encouraging that way. And there have been pretty good bands that have come out of there over the years, like, say, bands like Glimmermen, or Scary Éire, actually, is a pretty big one there…They're one of the first Irish hip-hop bands, and they came out of Tullamore. So, it's a funny one. I think it's one of those places that people maybe don't expect good music to come out of, and, when it does, it kind of surprises people. [Laughs]"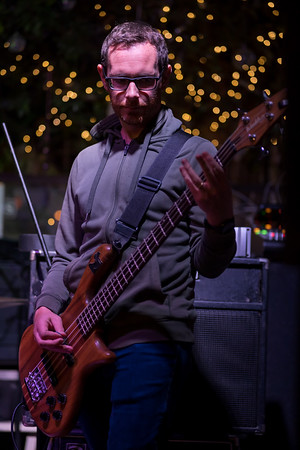 Despite all being Offaly natives, the band's members are now split between three counties, with Rob living in Dublin, Ozzy in Wicklow, and Owen in Offaly. This, on top of all the members having families and full-time jobs, makes practising and performing difficult. "That's the thing with us, we're working full-time jobs, we have kids and all that, and time is very limited, there," says Rob. "With recording the drums, there, like, Ozzy would have gone down and probably done one or two takes – I think with 'Luthite' he only did one take of the drums, and that was it, like – and it's just very much like, 'OK, I've got a spare hour here. I can come down, I can do this, then…yeah. I've got to get back and look after the kids, or I've got a soccer match to drive people to,' you know that sort of way?
"And, even with practice, last year, we would've been practising down in Tullamore and then, now, at the moment, we've kind of moved our band practice space up here, to Wicklow. We're just practising in a warehouse, just out in Wicklow, there. We've kind of found a little bit of space there, but, like, it is very much even a case of, when we are trying to coordinate band practice, I'm going, like, 'OK, I think my wife is not working this night, and I think, yeah, you don't have football practice to bring the kids to, this night,' and it's something that has to be coordinated in about two or three weeks in advance, in order to find that time. And it's the same with, like, trying to get gigs sorted and all that. It's like, 'OK, are you working this weekend, and do you think you'll be able to do this?'" He adds, "I was actually talking to one of the guys from that band Soft on Crime, there, a little while ago, and we were joking about how you might get four or five gigs a year. It's like, that tour of Australia can wait! [Laughs]"
Now the band is gearing up for their latest EP, which will mark their first time using an external producer, as Rob typically produced their releases thus far, which he feels had room for improvement. "I do remember hearing someone doing a review of that 'Luthite' single before, and, like – just when we were talking about vocals and all that – they were like, 'Well, the guy's trying to sound really grungy,' and all that," he says. "'He's trying to sound like some early '90s thing,' but I was like, 'I'm not that skilled!' I think the only thing that I was aiming for was, I was recording it late at night up here in the attic, and I was like, 'I'm really trying to not wake up my kids!' [Laughs]"
Now with producer Richie Ford at the helm for this new EP, Fierce Shook are beginning to have the sound they wanted fully realised. "What we've done sounds fantastic so far," says Rob. "It really shits all over that first EP!" On how it differs from their previous releases, he adds, "So far, it sounds a lot heavier. It sounds a lot bigger. I guess that's the main difference, it sounds fuller than what we've done before. Also, your man Richie is doing a lot more work on the vocals, there, for myself. For both of us, that's very appreciated. Yeah, actually, the first thing he said was, 'You're not a singer!' [Laughs] Which, yeah, it's very true! [Laughs]"
Teasing elements of stoner rock, funk and hip-hop as being featured on the new EP, it also puts Fierce Shook into an important Irish musical lineage. "The big thing for us was we were lucky enough to get one night in Windmill Lane, to record the drums, which was amazing," says Rob. "Yeah, that's kind of been the highlight of this whole thing, really, was just doing that." When the interviewer mentions that he's now part of the studio's history, Rob jokingly responds, "Yeah, yeah! Bruce Springsteen…Fierce Shook! [Laughs]"
Fierce Shook are still in the process of making their next EP. In the meantime, you can follow them on Facebook, Twitter, Instagram, Bandcamp, and Spotify to make sure you don't miss the announcement when it comes!

For a more extensive interview with Rob – where we go into more depth on the topics discussed, as well as discussions on self-producing, punk in rural Ireland, the Irish music scene outside of Dublin in comparison, and playing a wedding – tune into today's episode of POSTBURNOUT.COM Interviews…, today at 17:00 Irish time on YouTube, Spotify, Apple Podcasts, and Amazon Music Podcasts.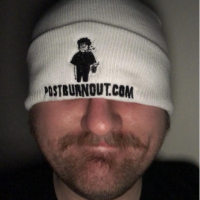 Aaron Kavanagh is the Founder and Editor-in-Chief of Post-Burnout. His writing can also be found in the Irish Daily Star, Buzz.ie, New Noise Magazine, XS Noize, DSCVRD and more.