In 2019, Galway-based musicians Jake Tiernan and Luke Mulliez of the band Turnstiles (not to be confused with the Baltimore band Turnstile, singular) began a promotion organisation, which they dubbed "Free House." On their website, they define themselves as "…a DIY and independent music night in Galway. It takes place once a month at Áras na nGael on Dominick Street. Entry is always free."
"It was just kind of like I was in a band at the time that had just started, and we were trying to get gigs around town, but none of the venues were getting back to us," Jake tells Post-Burnout of Free House's beginnings. "So, we just decided that the easiest thing would be to put on our own gig and…none of us really had much experience in gigging and definitely not promoting or any of that stuff, so it was very, very D.I.Y. at the start. We didn't even have…a mixing desk; we just kind of set up amps in the room and just played straight out of them, like.
"But we got kind of decent crowds. So, we did, I think, three or four of those before COVID, and that kind of became our main way of reaching an audience as a band, when we started out. And then, over COVID, I was kind of thinking about it, and decided that when things opened back up, that I was going to start running them for other bands, as well. And that was kind of how we got to what we're doing now."
After the initial impetus, the duo soon began hosting their shows at Áras na nGael, a local cultural centre and club, which has historically focused on promoting Irish culture and language, located within spitting distance of iconic cultural landmarks of Galway, like the Latin Quarter, Róisín Dubh and Galway Arts Centre.
"It's been made easy by Áras, the venue," says Jake, while adding that they allowed him the "space to be a bit of amateur at it [promoting]." On their reasoning for choosing Áras to host their events, he says, "Well, the venue's been in Galway always – or as long as I've lived here, anyway – and I actually had my 18th birthday there! So, it was just about two nights before my birthday, a few of my friends decided we should put something on.
"So, I can't remember whose idea Áras na nGael was, but we just rang them up and they wanted €100 for the room. So, two years later, when we were booking the gig, that was just the first place that came to mind. I was like, 'Well, they let us have this room for €100 for my 18th birthday, so maybe they'll let us do the same for our band.' And they have a nice system…where you only really have to pay for the room if they don't make any money on the bar, so we made more than enough the first night, so it kind of just became a thing where we can get the room for free, which was really, really helpful at the start, especially because we were doing free shows."
With this foundation established, we asked Jake how he felt that Free House distinguishes itself from other promoters in Ireland. For him, the answer was in their focus on promoting up-and-coming artists. "[Luke] has moved away now, but is still kind of involved, but I think part of what Luke brought to it was…he just kind of listens to everything, and he'll hear everything that's released by small artists in Ireland, and I think what we try to do is not have much consideration for the size of the act or reputation and it's just if we like [them]. And even if a band only had one thing uploaded to Bandcamp, we would get in touch and put them on."
As a knock-on effect of this, which has benefited them greatly, is that Free House has garnered a bit of a grassroots fanbase who are just as interested in the promoters as they are in the acts. "…Our audience returns for gigs, no matter who's playing," adds Jake. "So, we don't really feel under pressure to consider, 'How many people are going to show up for this? Like, how many Instagram followers does this band have? How much are this band going to promote it on their own?' Because we know we have a pretty consistent returning audience, so that kind of gives us the freedom to just put on whoever we want and whoever we think is good, no matter what draw they have or anything."
While Free House continues to see growth, Jake foresees that their commitment to putting lesser-known acts in front of an audience will remain their priority. "That was always the idea because that's what it was for our band, when we started out," he says. "Like, it was our chance to kind of get a foot in the door in the music scene in Galway. So, originally the idea was we wanted to provide that opportunity to other bands. But now there's a lot going on in Galway, and especially in the venue we use, Áras na nGael, so there's young Galway bands playing there, probably once a week. So, then I think we've felt like the pressure's been off, a little bit…we're not the only night that's putting on young, starter bands.
"So, then I think we've had a bit more freedom again to go with bands from around the country and artists who are on tour, like we had Autumns, then we had Enola Gay play one show, and they're both pretty big, established acts, but I think it's about trying to keep the balance, always. Like, we do want to expand and have bigger acts, but we don't want to ever lose touch with giving gigs to bands for the first time in Galway."
While Free House was a monthly event, due to college commitments on Jake's part, there has been a bit of a sabbatical, but one which he plans to make up for with a big event.
The Free House Fest will take place at the Áras over the June Bank Holiday weekend and will feature performances from the likes of the experimental punkers The Love Buzz, the psych-folk singer-songwriter Elaine Malone, the "Skronky Tonk" noise merchants Oh Boland, the avant-garde cowpunkers Rural Savage, the wiry minimalistic trio Grave Goods, among many, many more.

"A festival is something we've been toying with for a while," says Jake, "and the approach that I took with it was I'm finishing up college at the moment, and I'm in my final year, so the past three months have been pretty intense, so I decided to take a step back from doing the shows once a month, and I just thought, 'Well, if I have one big project that's just kind of further down the line, I could quietly be working away in the background, but it doesn't have that same time pressure as a show every month and you have to be promoting every two weeks.' So, it was kind of a practical thing in that way.
"But, yeah, basically just the idea is just to bring together a lot of the best acts who have played together at our shows over the two years, and then there's a few new ones in there now, people we've tried to get a few times but not been able, for whatever reason. So, it's all pretty friendly and it's all pretty simple…and the idea of the weekend is just to get everyone together, to kind of bring that community of artists and the people that go to the shows together, to kind of hang out for a weekend and celebrate me being finished college!"
Despite the simple premise, the festival soon expanded. Jake explains, "So, originally the plan was just, 'We'll call it a festival, but it'll just be three nights of gigs in a row.' And then that all got sorted really quickly – so, I got all the bands to confirm – then I was just sitting there, with months to go until it was going to be on, and it was all sorted, so I was like, 'Well, I might as well start throwing in loads of things!'
"So, we're gonna have a photo exhibit, and we might have a film showing, as well, and we're going to have a food truck, and merch market that has a lot of local record labels, and artists will be selling T-shirts and vinyls and all that kind of stuff."
The Free House Fest takes place at Áras na nGael between June 2nd-4th. Tickets are available from Eventbrite. Go to freehouse.ie for more information on Free House and to keep up to date with everything they do. You can also support them on Patreon.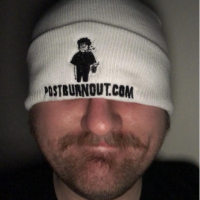 Aaron Kavanagh is the Founder and Editor-in-Chief of Post-Burnout. His writing can also be found in the Irish Daily Star, Buzz.ie, New Noise Magazine, XS Noize, DSCVRD and more.