On today's exclusive episode of POSTBURNOUT.COM Interviews…, Oli Rainsford, Dan Smith, and Harry Pritchard from the Bristol rock trio Krooked Tongue discuss their last EP, Deathproof, how the music has changed on this release compared to their others, forming in Bristol despite none of the band members being from there, the cinematic influence in their music, covering Jay-Z's "99 Problems" for a college assignment, accidentally topping the Dutch charts, covering "Hasta Mañana Monsieur" by Sparks for an upcoming tribute album, playing in Estonia, and Mariel Loveland of the New Jersey alt-pop act Best Ex discusses their new, debut album, With a Smile, her former band Candy Hearts, how being a solo artist compares to being in a band, how songwriting has not changed from her pop punk band to her electro-influenced solo work, being on Iodine/Alcopop! Records, and more.
Krooked Tongue's latest EP, Deathproof, is out now and available to stream and purchase here. You can follow the band on Facebook, Twitter, and Instagram.
Best Ex's debut album, With a Smile, is out now and available to stream and purchase here. You follow her on her website, Instagram, Twitter, and Facebook.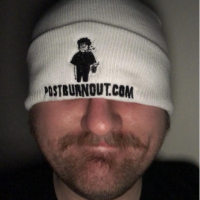 Aaron Kavanagh is the Founder and Editor-in-Chief of Post-Burnout. His writing can also be found in the Irish Daily Star, Buzz.ie, New Noise Magazine, XS Noize, DSCVRD and more.