The Scottish alternative outfit Gallus began when acting student Barry Dolan was approached by his musician friend to join his band. "I went to college to study acting, and I had done a lot of school shows. That was probably the closest experience to singing I ever had," he tells Post-Burnout. "But I was best friends with Eamon [Ewins], who's the lead guitarist in the band, and he came to see one of my plays I did in college, and just thought, 'Dude, I'm starting a punk band. Do you think you could, like, shout for a bit and see what happens?' And that's how it kind of started. So, I've been slowly, slowly learning how to pretend to be a good singer for six years now, and I think people are now starting to [buy it]."
As a new and inexperienced frontman for a band, Barry carried what he learnt in acting class into his live performances, while he got his footing with his on-stage persona. "I preferred performing live when I was doing acting, anyway," he says. "Performing at a gig and performing at a play, the way you work an audience is probably the only similarities they share, but it's a massive similarity. So, I already sort of had an understanding of that; it was just a completely different fucking artform that was a bit jading. But I think it probably did start the same way other bands started, because, in my experience, bands are shit for the first fucking year of their life; especially if it's a musician's first band. So, we were just probably terrible for an extra bit longer than other bands, because we were trying to fit me in, somehow."
One notable thing about Gallus's music is how hard it is to pin a genre on. It incorporates elements from alternative, postpunk, hardcore, indie, and metal. Barry lists acts like Green Day and The Fratellis as inspirations, and emphasises acts like The Streets and The Divine Comedy as specific influences for his lyrical writing. Meanwhile, most of the band's other members got their musical foundation from playing in teenage metal bands. "Eamon and Paul [Ewins] are cousins – like, Paul's our drummer – and they were playing together for ten years previous, just being family, you know what I mean?" says Barry. "I think the tunes you listen to, and the tunes you learn from, and the music you learn from, will probably be a bit different. We're still trying to figure out, to be fair, what type of band we are. I always find the five of us do kind of have different music tastes, so writing a song that five people like, and they don't listen to the same music, can be a bit tough, so it makes our tunes a bit different every time."

The band spent no time whatsoever in getting their music out there. The band formed in 2017, and, by March 2018, they had already released their first single, "Nice." "I think we started playing [live], like, a month-and-a-half into us playing music," says Barry. "[Paul] lit a fire under our arses and started booking us for gigs, even though we had two tunes. But it was the same with recording, as well; like, we had one song finished and he was like, 'Right, I'm messaging people and getting us signed!'" On this sink-or-swim approach to the band, Barry says, "It's been the death of us, sometimes. Sometimes we're like, 'Why did we do this? We are not ready!' [Laughs] But I think that's just the way you need to do it sometimes, because, the way we see it, if you sit on something, it's not going to happen. So, better to put pressure on you than the alternative, you know what I mean?"
After years of self-releasing their work and building a reputation and fanbase through their frantic live shows, in 2021, the band signed a record deal with Marshall Records. When asked how he feels that things have changed now that they are no longer unsigned, Barry responds, "I dunno, man. We're still skint as fuck and work other jobs! [Laughs] Nah, it's really good to have a team behind you that believe in what you're doing. I dunno, maybe if we were still unsigned, I think we would be more deflated, so it's really good to have people around you, being like, 'No, youse are actually really good. Can youse keep going?' And they're just really supportive. Our booking team and our label is the same team, which is really not that common for bands, that you can actually have all these in the same room at one time, which we're really thankful for. And, yeah, they're just very supportive, and we all just want the same thing, and it's very nice, and it's very nice to have that going forward. I'd much rather have that going forward than be unsigned. But I'm still skint. [Laughs]"
In June, the band released their debut album with Marshall, We Don't Like the People We've Become. Adorned with rave reviews, the album mixes serious themes that reflect upon social issues of the modern day, mixed with some signature Scottish gallows humour, while also showcasing the band's versatile musical style. "Someone [who] reviewed the album said it was riddled with ADHD, which I'm just going with, man," laughs Barry. "I thought that was the perfect description of it, because we're all riddled with ADHD. Who's not?" Yet, the album had a strong continuity and consistency between songs, both thematically and musically. Barry continues: "I think it was always going to be hard for us to be cohesive, but because we wanted it to be as cohesive as we could, we did focus on that when we wrote the tracks that were going in. But that's never been us – a cohesively-sounding band – but we want it to be, but we want it to be us…It can be solid. I don't really know how we've done it. [Laughs]"
With career highlights such as supporting Biffy Clyro, playing SXSW in Texas, and solidifying themselves as a crowd-drawing headlining act, the band's goals for the future are quite simple: "We just want to do the same. We want to keep on doing this," says Barry. "We're travelling a lot; we're going to Europe. I'd say we have a bigger following in Europe than we do in England, so I quite like that, to be honest. Like, I like going away. We just want to keep on hitting these places, release more music, and do more, like. We just want to keep this going for as long as we possibly can, because – I think I can speak for the boys – where it's like, that's the happiest we are, when we are just away, doing these things, writing songs, playing all these beautiful places. More of that, please! [Laughs]" Barry sums up the band's desires with one final sentiment: "Just listen to this bloody album so we can stop working our other jobs! [Laughs]"
Gallus's debut album, We Don't Like the People We've Become, is out now to stream or purchase here. To keep up to date with the band, check out their website, where you can find all of their tour dates and social media links.
For a more extensive interview with Barry – where he goes into further details on the topics discussed, as well as how he feels Brexit has changed how the band travels, career highlights, the reception the band got in the U.S., performing as an actor versus as himself, songwriting, emphasising his Scottish accent in his songs, and more – tune into today's episode of POSTBURNOUT.COM Interviews…, which goes up today at 17:00 (IST) on YouTube, Spotify, Apple Podcasts, and Amazon Music.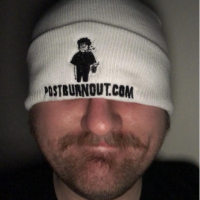 Aaron Kavanagh is the Founder and Editor-in-Chief of Post-Burnout. His writing can also be found in the Irish Daily Star, Buzz.ie, New Noise Magazine, XS Noize, DSCVRD and more.