With the release of their fifteenth studio album, Hard Cold Fire, out today, Andy Cairns, the frontman of the legendary alternative metal band Therapy?, was generous enough to answer some questions that we wrote and sent to him, regarding the new album, the band's career and their thoughts on the music industry currently.
­­­­­­­­­­­­­­­­­­­­­­­­­­­­­­­_____________________________________________
You have been a band for over thirty years now, and your new album Hard Cold Fire marks your 15th studio album. In that time, you have not taken any hiatuses. What keeps doing it for you?
We enjoy the whole process, albums, recording, rehearsing, travelling, gigging very much. It's natural to us, it gives us and others satisfaction and keeps our mental health in check.
In all that time, how do you think being a band has changed? What's become easier and what's become harder, in your opinion?
A lot has changed, some for the better. We now have widespread home recording and the ability to share music with the world is wonderful however the model of the music biz is still antiquated, and more attention needs to be paid in equality, financially and culturally. It's fantastic to get your music heard and out there globally but at some point, people have to cover costs. Unless you're an established band with a good network it's hard to structure a plan to keep creative and financially solvent.
Therapy? is a band which I feel can be split into eras, like your noise era, your industrial era, your alternative era, etc. (ignoring the fact that those "eras" may have only been a year or two apart at times). Recently you did a tour of the UK called "Love Your Early Stuff," where you played smaller venues than usual, belting out stuff from your pre-Nurse days. How did doing that tour feel? Was it nice to go back to the older stuff and did it influence how you may write in the future?
The "eras" aren't intentional, it's just a reflection of the music we're listening to collectively. The energy of the gigs might influence us, but we try to keep open-minded, going forward.
With all those variations in your sound, I think there is a consistently recognisable "Therapy? sound." Is that a conscious effort for continuity and distinguishability on your part or just something that comes naturally as a result of who you are as songwriters and musicians?
That just comes from the way we play and the various organic sounds and styles we've developed over the years. We may like electronic music so when we incorporate it into our music we don't reach for the samplers and sequencers, we take the vibe of the music and replicate it with the wood and wire of guitars bass and drums. Good examples are "Innocent X" and "Meat Abstract" from our early years which were influenced by Belgian New Beat and "Woe" from our new album, Hard Cold Fire, which has a main riff written by our drummer, Neil Cooper on a synth and then transposed to guitar by myself.
As previously mentioned, your new album is Hard Cold Fire, which is a fantastic record. I think my personal favourite track off it might be "Two Wounded Animals." I was wondering what the concept behind the record was?
Thank you. "Two Wounded Animals" was developed from a Michael McKeegan bass part he named "Blugazi" after Fugazi and The Jesus Lizard's Blue album. There's no lyrical concept with this record but aesthetically we thought it would be kinder, post-COVID, to select the tracks from our new batch that were high in energy, up-tempo and direct. We wanted empathy and melody to cut through the abrasiveness this time.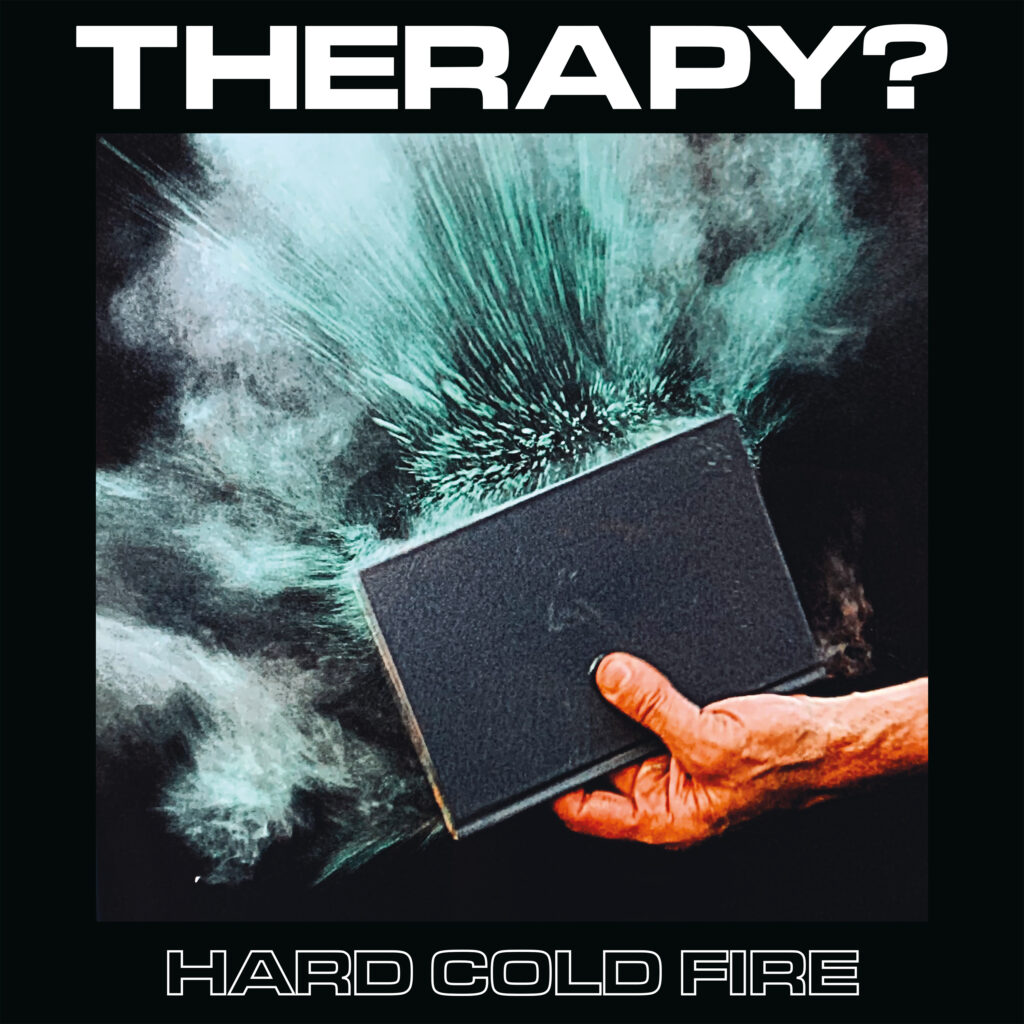 During the lockdown, you began performing songs for fans over the internet, individually from each other's homes. How much of that was for the benefit of the fans, to give them something to enjoy while they were stuck at home, and how much was for your own benefit as musicians to prevent getting rusty, and also for preserving your own sanity?
It was really for the fans, they could have something to fill the T? space until we returned. As a band we were in daily contact and constantly working on stuff which kept us focused.
Did performing those online sessions influence the sound or approach on Hard Cold Fire?
No. When we returned to rehearsals it was as though we'd never been away.
During your career, you've worked with various producers, like Chris Sheldon, Jack Endino, Tom Dalgety, and Andy Gil, among others. Are there any other producers that you would like to work with? Personally, I would love to see a Steve Albini-engineered Therapy? album!
We asked Albini to work with us twice before. The first time was for an EP in 1993 and he refused as we'd left Touch & Go Records, run by his friend Corey Rusk. We rang him in 1999 about doing Suicide Pact…You First and he was open to the idea but was busy. Maybe at some point in the future we can try him again.
Speaking of producers, Chris Sheldon, who within your band's history is probably best-known for producing Troublegum, came back to produce Hard Cold Fire. What was the impetus for getting Chris back?
We'd already agreed Chris would do the album when we'd finished work on our last album, Cleave. Chris is an amazing producer and a fantastic guy so having him around is inspiring and conducive to a positive atmosphere.
Hard Cold Fire marks your third consecutive release with Marshall Records. What is it about Marshall as a label that works for you?
Like all the best labels they offer help when it's needed, are open to ideas, and let the band get on with it in the studio.
As a songwriter, you have never been afraid of going to dark places. Unlike other songwriters, like Steve Albini or Jello Biafra, as examples, who write about dark subject matters with a sense of detachment as they're writing from a fictional perspective, I feel that Andy will indulge in fictionalisation while also drawing upon personal experiences, too. Has there ever been an anxiety with exposing personal chagrin to such a mass audience?
Absolutely not, It's the way I've developed over decades and I'm very comfortable with it.
When writing music now compared to when you began, is there ever external worries over what your family will think of the lyrics? For example, do you ever picture one of your kids in English class saying, "James Joyce? Oh, yeah! I think my aunt knew him!"?
No. If I started worrying, I'd never get anything written. If had some hilarious examples where people have thought songs were written about them.
I've heard you retrospectively refer to 1995's Infernal Love as the band attempting to write and produce a mainstream hit to continue the success the band was enjoying after Troublegum exploded. Is an album that includes the lyrics, "Buggered by a priest when you were seven years of age/The age of understanding came with blood and semen stains" as mainstream as Therapy? can get?
I think Infernal Love was a way of trying to break out of the shackles dictated by post-Troublegum success. I certainly felt mainstream pressure from our record company but didn't deliberately try to write a "hit" album. If I'd wanted to do that, I'd have continued with the formula set out by Troublegum.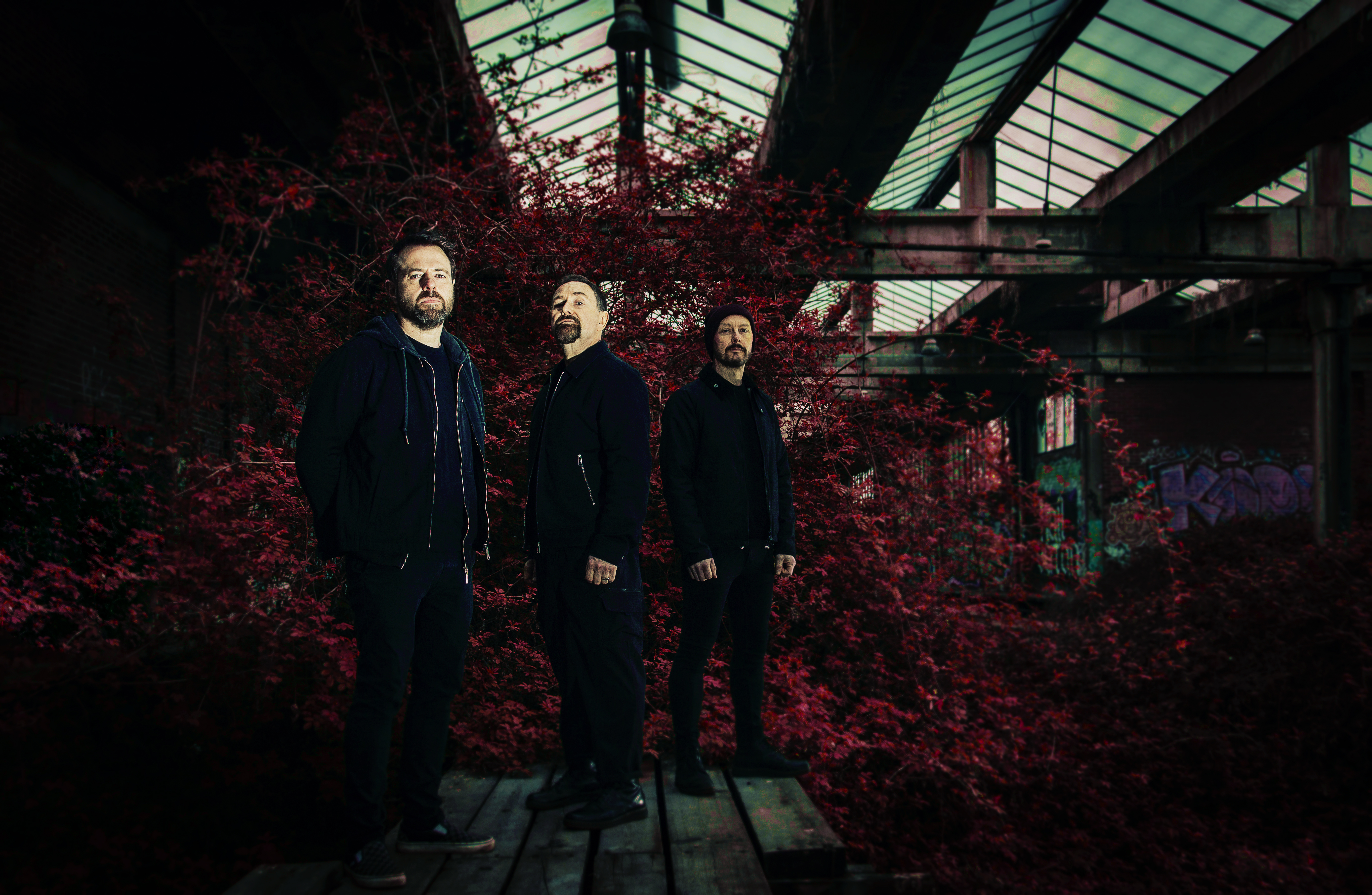 Therapy? has toured exclusively throughout Europe for many years now. Finances permitting, would returning to places like North and South America, Oceania and Asia again at some point be of interest to you? Although, I would say an uncharitable misinterpretation of "Poundland of Hope and Glory" may prevent a revisit to Israel.
North and South America would be a stretch unless there was more interest in the band. Apart from Brazil, it's not a hugely T?-friendly continent. Asia, we used to go to Russia a lot! The song "Poundland of Hope & Glory" is a critique of post-colonialist mythmaking as represented by the Brexiteers adopting the William Blake poem "Jerusalem" in the Proms. It's saying, "This is not a green and pleasant land; it's a deeply unpleasant land at the moment".  
As people who began playing postpunk and post-hardcore inspired music three decades ago, do you find the recent rise in popularity in noisy, postpunk music, particularly in an Irish context with the likes of Fontaines D.C., The Murder Capital, M(h)aol, Just Mustard, Thumper, Gilla Band, Pillow Queens, etc. enjoying mainstream success, to be vindicating? Do you have any opinion on why this kind of music is resonating with people now?
I love Enola Gay and Chalk too. I've no idea why young people are loving this style of music again but I'm very, very happy that they are.
What are your plans for the future, either distant or immediate?
Tour Hard Cold Fire until the end of the year and have some new songs on the go for the future.
Therapy?'s latest album Hard Cold Fire is out today. You can purchase a copy here. From Monday, the band will begin a brief UK tour of in-store signings and shows in support of the album.
They will be appearing at:
Monday, May 8th – Bristol – Rough Trade (show and signing) (SOLD OUT)
Tuesday, May 9th – Nottingham – Rough Trade (show and signing) (SOLD OUT)
Wednesday, May 10th – London – The Fighting Cocks (show)/Banquet Records (signing) (SOLD OUT)

Thursday, May 11th – Oxford – The Bullingdon (show)/Truck Records (signing) (TICKETS)
For all further information, see Therapy?'s website.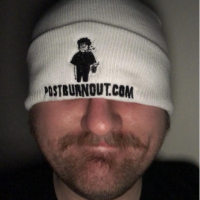 Aaron Kavanagh is the Founder and Editor-in-Chief of Post-Burnout. His writing can also be found in the Irish Daily Star, Buzz.ie, New Noise Magazine, XS Noize, DSCVRD and more.